Dead Lies Dreaming by Charles Stross.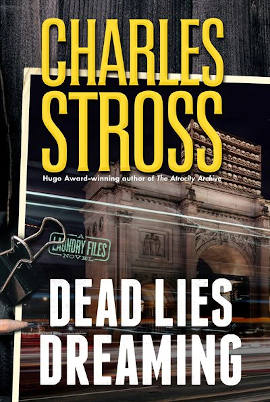 Dead Lies Dreaming by Charles Stross: Part of the Laundry Files universe - but stands well on its own. No prior reading required
Themes: Magical realism / Cyberpunk / Horror / Gender identity / liminal spaces
One line summary: A meta re-imagining of the Peter Pan story in a 21st Century Britain where the Prime Minister is a bloodthirsty Lovecraftian elder god in disguise.
David's rating: 8/10 - Fast paced, addictive and funny - let down by the chief bad guy being a 'sexual deviant' - always a lazy signifier shortcut.
I loved the Laundry Files and compulsively read the entire series as soon as each new one hit the shelves.
This seems to be the start of a new adventure / fantasy series which works, in part, because Stross already has the complete universe he's already built.
It's ready-made and it's gorgeous, and, it doesn't matter if you're not already familiar with it, because the author shows you what you need to know.