Addressing the misaddressing issue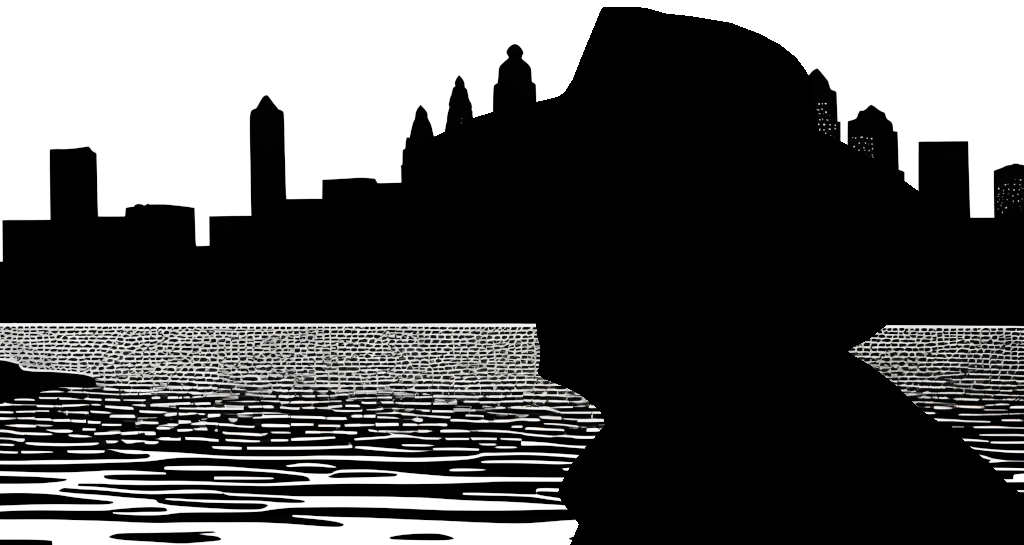 I get a lot of mail that I shouldn't - mostly because of my email address and the way I use it.
At the end of 2022, I was fortunate to find a domain name related to my actual surname that wasn't either in active use or squatted.
Rutland.com belongs to a fireplace, chimney, and stove maintenance company; Rutland.net has been privately owned since 1998, although never actually used; Rutland.org will charge $35 per year for a single email address; Rutland.co.uk deals with commercial property investment; Rutland.me and Rutland.uk are being squatted with a purchase price of £2995! Rutland.gov.uk, obviously, belongs to Rutland County council.
Rutland.org.uk, on the other hand, was squatted until at least 2018, and abandoned at some point afterwards. I spotted it in December 2022, and snapped it up for a fiver. Bargaintastic!
I already own a number of domain names that I use for self-hosting various sites and services, but my shortest one is registered in Belarus, and my main one, although awesome and memorable, is a bit unwieldy.
And so, I finally am able to have a decent email address that contains my first name, last name, and doesn't rely on any third party1.
I can also create infinite subdomains for self-hosted services on the Pi, including Jellyfin, Immich, Mealie, Nextcloud, my Akkoma Fediverse server at social.rutland.org.uk, and more besides.
I have ALL the email addresses
One of the reasons I like having my own email server is that it allows infinite aliases. I am required to hand out my email address every time I make an online purchase or sign up to a service.
When these companies eventually get hacked, and the address and password I use for that service ends up in the hands of wrong 'uns, it's good to know who to blame, and ensure that particular combo can't be used anywhere else.
Setting up my server as a catch-all means that I can give a unique email address to any company, service, or individual, recieve emails from them, and not have to worry too much. In the event of a data breach or my details being sold to marketers, I also know who to blame. Any email sent to any address at rutland.org.uk will land in my inbox.
Unfortunately, this means that people who aren't paying attention, and want to send an email to Rutland County Council, frequently land in my inbox, too.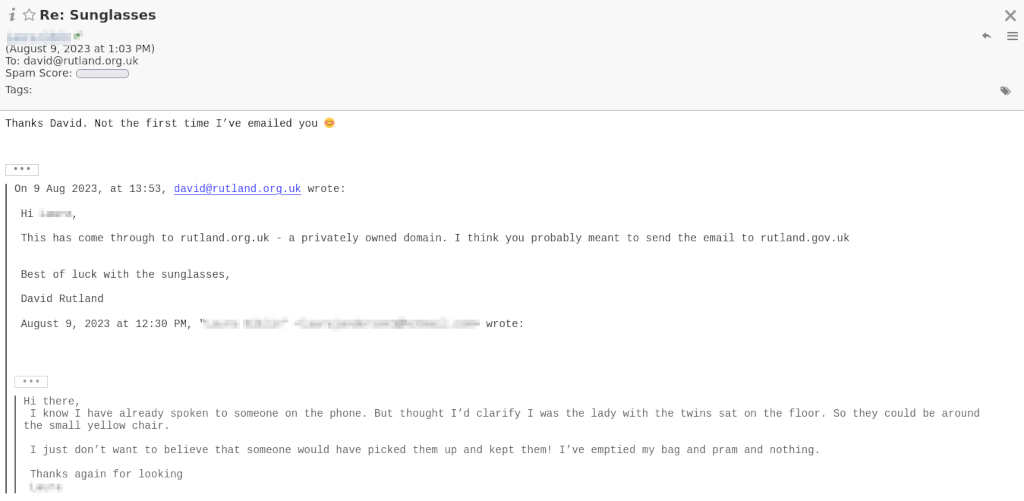 Since setting up the server in April 2023 - a mere six months ago - I've received dozens of emails intended for the local authority.
I've seen webinar slides and recordings, meeting notifications for Adult Autism Care, information about the Voluntary Action Rutland Levelling Up Fund, the Final Inspection Report for a nursing home, and been copied in on the minutes of the meeting of the Rutland Water Partnership. This morning, I recieved emails intended for three people involved in the Rutland children's social care improvement programme.
I can ignore these safely2. Occassionally, I'll shoot off something pointing out the error, but most times I won't. Shockingly, the majority of these misaddressed mails come from people with a rutland.gov.uk email address themselves.
But I recieve other emails, too. Ones from actual people.
How about the one containing names addresses and dates of birth, requesting information on a vulnerable adult, who "was admitted to the Peterborough City Hospital last year. There were some concerns during this admission hence I am gathering information".
Or an invitation to collect a tonne of pies for some council event or charity.
Or dealing with people who are concerned that they put the wrong address on their application for bus passes (as well as the wrong address on the email).
Or someone who's concerned about their sister's Housing Benefit and Council Tax Support claims paperwork.
Or a delighful lady with twins who has emailed me twice (most recently about leaving her sunglasses in the library).
Or confirmation that a particular 80 year old is a permanent resident at a particular nursing home.
Or urgent requests for staff references.
Or urgent welfare concerns.
If I didn't run an email server at rutland.org.uk, after a few days of trying, the senders' would recieve a notification that their email had failed. If I didn't run a catch-all, they'd bounce back even quicker.
In search of a solution
Naturally, if it seems urgent or personal, I'll immediately fire back, "Hi Name!
Your email has come through to rutland.org.uk - a privately owned domain. I think you probably meant to send the email to info@rutland.gov.uk
Best,
David Rutland"
This isn't ideal. I still get to see people's personal information, and I still have to get involved with Rutland County Council stuff when I don't want to.
I'm giving up neither the domain name, nor the catch-all (it's super useful), but I'd quite like to find a way of automatically bouncing emails intended for the council - either back to sender, or to the intended recipient.
The problem is knowing which ones are which - which currently I can't do without reading them. I wonder if the .com, .co.uk, or .org variants have the same issue.
I've modified the Rutland.org.uk page to be a bit more informative, but I don't think there's a lot more I can do.
---
1Technically, I suppose it relies on Racknerd, the company that hosts my bargain basement VPS somewhere in Arizona - but it's portable. I already host another email server on the Pi, but any computer or VPS will do.
2Although recieving tutor login details for an academic institution almost tempted me to stray.