The internet is a graveyard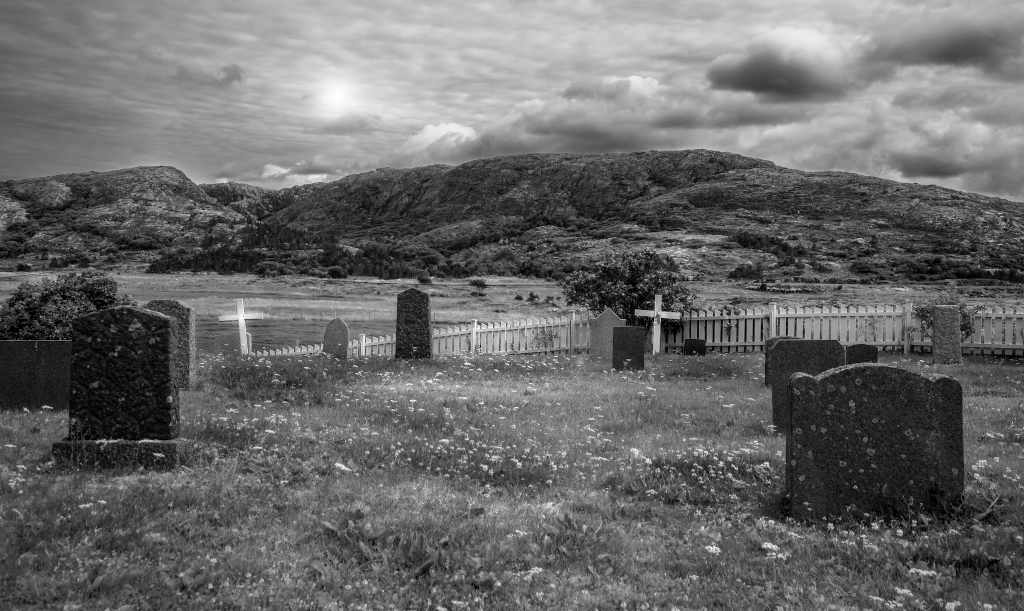 The web has been around for four decades now. Websites have come and gone. Bulletin boards have been overtaken by social media sites, and those same social media sites have all but killed off the personal blog - swallowing almost everyone and everything into their foetid maw.
Not everything that's bad about the web can be attributed to Google, Facebook, Twitter, and co. Businesses, blogs, websites, and people sometimes fail or disappear on their own - leaving behind nothing except their name.
You may or may not know that I've taken over the linuximpact.com domain name, and am attempting to run it as something akin to an online magazine for Linux enthusiasts. Fewer SEO optimised guides, and more "look at this cool shit" kind of thing.
I'm not the first owner though, and through the internet archive, I can gain some kind of insight into the previous owners, their lives, careers and what happened to them. After a couple of bottles of wine last night, that's what I decided to do.
The domain name itself is 22 years old, and the first archive.org snapshot appears in 2001. It's a blog - dedicated to news about Linux. This was back in the day when Linux was a very niche, very business oriented OS*, and there are bulletins about upcoming conferences, earnings reports, and software webcasts. Dry stuff, but presumably useful to someone, and the site owner obviously thought it was important enough to post about.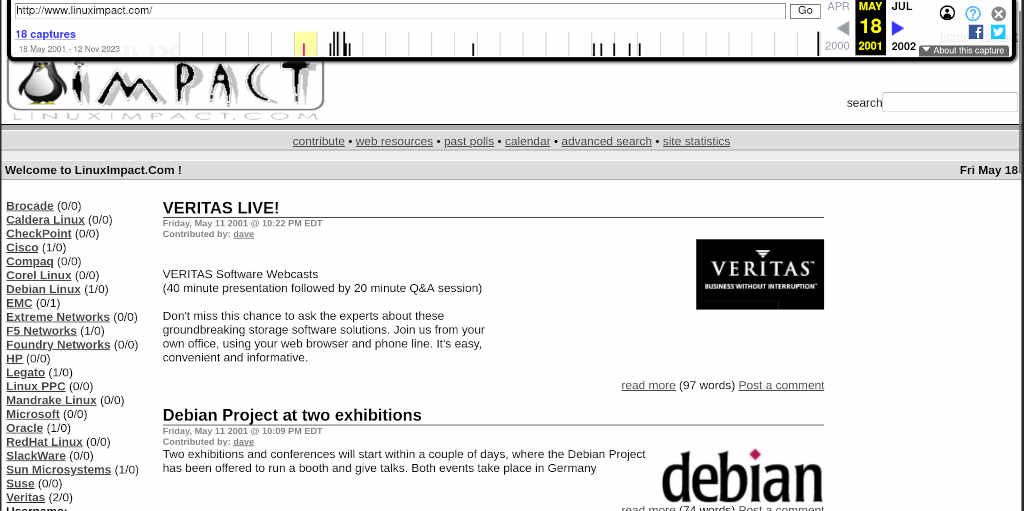 Further snapshots of this site were thwarted by a redirect to a .cgi page that was never captured.
The next time Linux Impact appears, it's as a lynx friendly HTML site, with badges proclaimed that it's powered by FreeBSD, Apache, and invites us to validate the site's CSS by clicking on a button.
The site is home to the personal blog of Stewart A. MacKenzie. An employee of New World Apps - a "Managed Hosting and IT Outsourcing Services" company. He had a home office, and a massive server that proudly declared "You are here".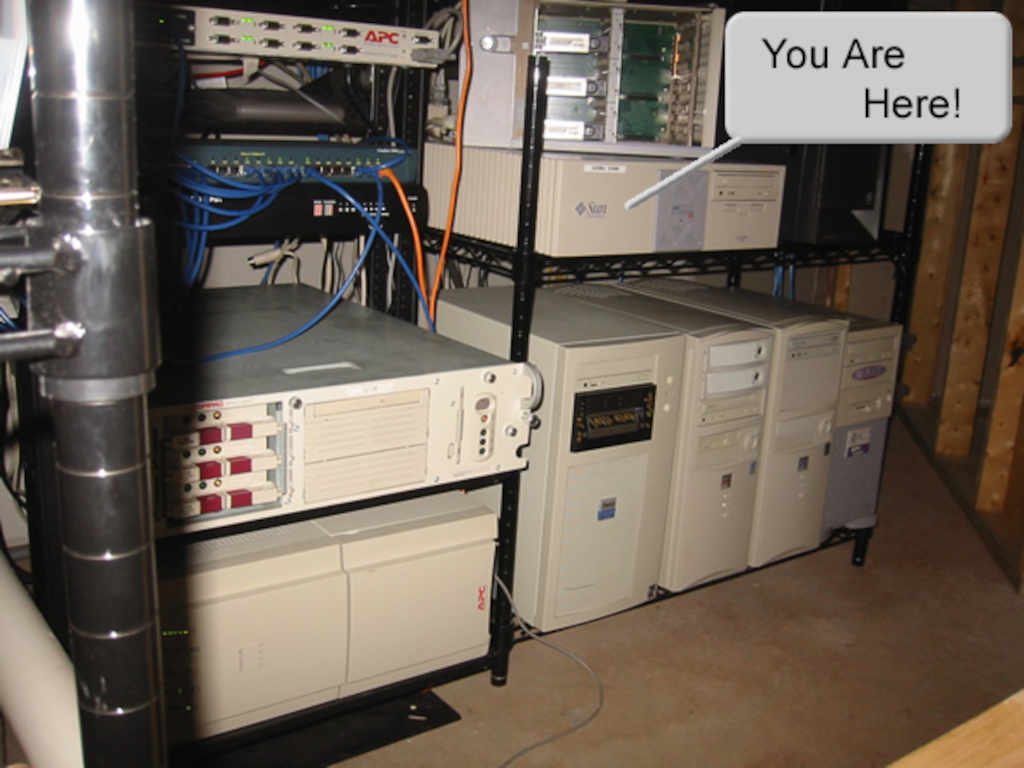 In 2001, Stewart MacKenzie was in his late 20s and "couple classes shy of a degree in Computer Science". He was expecting a new baby, and had just paid off his 1995 BMW 325i, writing, "I guess they got the check because I just tried to log into my online account at BMW and check my balance and they say that I do not have an account there anymore."
Yeah. That doesn't sound too promising, Stewart. I hope it all worked out for you.
Stewart's resume, project history, and "about" sections are still preserved, giving his entire life history to that point. It's a fascinating read. Unfortunately neato.html was not archived, so it's not possible to see what a 2001 web developer putting in 70 hour weeks found "interesting and neat".
There are top ten lists (absent from the archive), a links page (slashdot ftw), artcles he's written such as "A Minimalist Guide to getting Tomcat up and Running," along with a list of yet unwritten articles along with the comment, "Arggg… where does all of the time go.  I need to really set some time aside for these."
I can't find him on any current web search.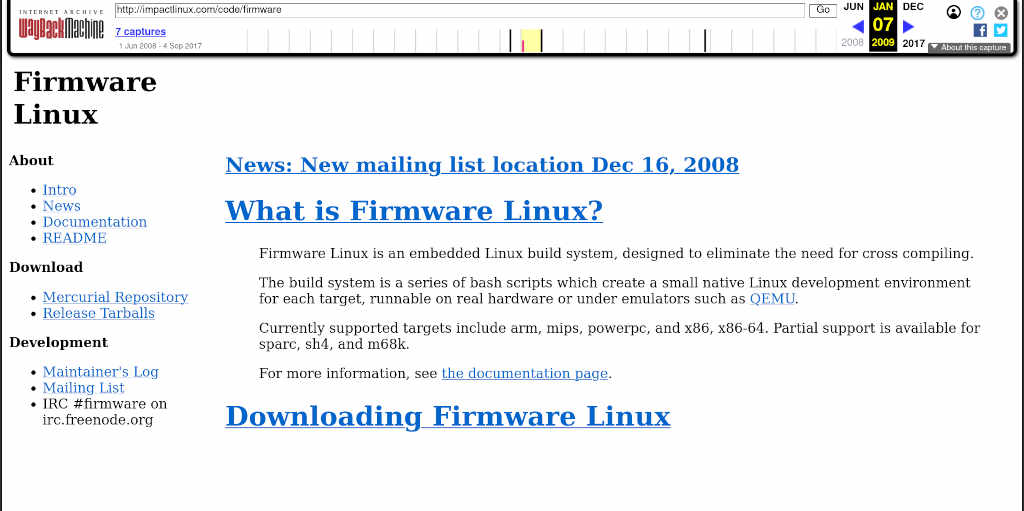 The site is silent for a further five years until it becomes home to Impact Linux - also known as Firmware Linux - "an embedded Linux build system, designed to eliminate the need for cross compiling."
Impact linux moved to impactlinux.com, where it survived until 2009. The ImpactLinux.com domain was taken over by a Chinese educational affiliate, but the hosting account is currently suspended.
There's silence in the archives until 2014, when linuximpact.com became some sort of FTP host. The directory structure is still there, but no files.
And that brings us to today.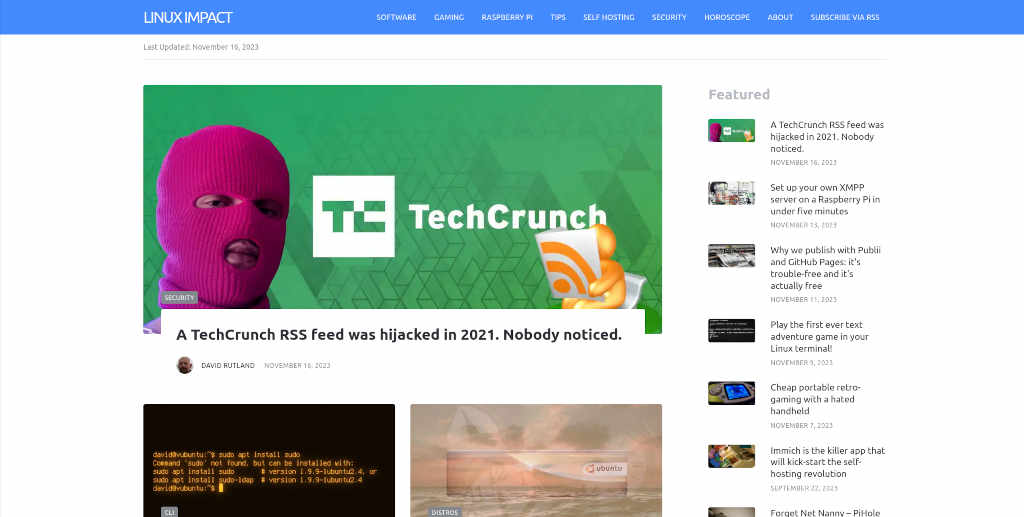 I'm going to keep it.